To dream, to plan his itinerary, to think about the meaning of his voyage … The great writers travelers, like Jack Kerouak, Henry Miller or Sylvain Tesson are obviously source of inspiration and want to drop the moorings. But it will not be about them that I will speak here, but rather practical and concrete books on the preparation of a round the world (updated in December 2015, ed.).
1 / They went around the world; 32 blog-trotters portraits
What better way to prepare a world tour than to take inspiration from the trips of those who have already done it? Solo, couple, family, friends; Bike, motorbike, solex, boat or camping car … Sandrine Mercier and Michel Fonovich , founders of the travel magazine A / R selected thirty travelers, of all ages, with very different routes and who shared their journey on A travel blog. A further proof that going around the world is not a dream reserved for a few illuminated riders. A book which I have the pleasure of extolling the merits of being part of the selection of blog trotters (page 57 "A ticket for a smile"). Among many others, like Paul-Henri and his sister Ophelia ,
Super bonus at the end of the book: a handy booklet, with lots of information on how to prepare your trip, pack your bag, transportation, visas, vaccinations, etc.
2 / The bible of the great traveler
It is a Lonely Planet that is out of the ordinary. Written by three uncommon travelers, Anick-Marie Bouchard , hitchhiker and great adventurer, Nans Thomassey , who undresses for our pleasure in Nus and culottes, and Guillaume Charroin , it is a guide who calls to "reinvent "Travel, a plea for traveling differently, off the beaten track of the tourism industry. "This guide is to be put in the hands of all those who would like to travel but do not dare to do it because it is too expensive, too far, too intimidating …" reads in the foreword. A bible to learn to "travel better with less", through full of alternative travel techniques like hitchhiking, boat-stop, couchsurfing,
An ideal book to read before going around the world, because this kind of long-distance journey is just the opportunity to put into practice these different methods. In a world where the use of money has cut people off from direct exchanges and human contacts, the #BDGV gives leads to venture out of its comfort zone and meet others. With also comprehensive chapters on travel safety, health and info on the journey to the feminine.
3 and 4 / Leaving the world
This is virtually the only guide as such that exists on the subject of world tours and long-distance trips. Directed by the association ABM (Aventure du bout du monde), under the coordination of Didier Jéhanno , "Lever around the world" is already in its 5th edition. I used it a lot to prepare for my long-distance trip in 2009 … Super comprehensive on all administrative matters: how to take a sabbatical, how to pay taxes, take insurance … Also with average daily budget tables by Countries, the whole list of travel awards and how to fill out a sponsorship package, the advantages and disadvantages of taking a round the world ticket, the full detail of what to have in your pharmacy kit.
And also … Le Petit Fumé has also released "a tour guide around the world". Less complete in my opinion than the ABM guide, but it still answers the main questions one can ask about how to choose its destinations, what itinerary to borrow, what means of transport privilege …
5 / Succeeding around the world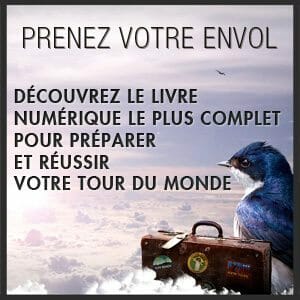 There are not only paper-based books to prepare a world tour, there are also electronic books. Well-known blogger on the web, Ryan The backpack has released an ebook, where he shares all his tricks as a great traveler with his readers. Beyond the many tips on how to do your backpack and do not overload yourself, this e-book gives plenty of info on how to enjoy the internet to better prepare its round the world: buy plane tickets Cheap, book a bed at a discounted hostel, better pick up a wifi network when the connection is bad … With anecdotes from his personal experience as a traveler, he also gives tips to be wary of fake taxis or local A little too friendly to be honest.